Light Curves is an XHTML and CSS compliant WordPress theme that uses light shades of colours to create a simplistic looking blog. It has 5 widget areas and supports up to 4 authors. Gravatar support is utilised throughout. WordPress 2.6+ required.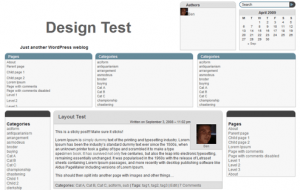 Version 1.05 now up!
Fixed a small XHTML bug in the comments section that was only visible when user is not logged in
WordPress 2.8 support
Compressed a few images
Fixed version number
Version 1.04
Changed all specific sections to widget areas so users can add their own things
Fixed IE 6 support that was broken last release
Fixed minor post footer border problem
Fixed right sidebar to mirror the left in style
Changed link text so users can see links
Version 1.03
Added tag support in the post footer
Fixed post footer categories bug
Version 1.02
Added multiple page support for posts and pages
Version 1.01
Changed Recent Comments and Twitter padding
Fixed IE7 Support
Added IE5.5 and 6 Support (using transparent PNGs so still won't show 100% correctly)
Fixed problem with alignment of posts and pages
Download Here:
Instructions:
Simply unzip and upload the lightcurves folder to your WordPress themes directory, go to your wp-admin themes page and activate it.
Notes:
The 3 top widget areas can only hold 1 widget each due to the specific way it handles the widget titles.
Known Issues:
If you place an image right aligned at the very top of a post or page it will not properly align to the right.
Help:
If you need any help with the theme please leave a comment here.