Here's how the card comes in the box, it's fairly tight in the foam, though once it's taken out of the box it comes out fairly easily, it's sealed in the anti-static bag with some tape on the other side.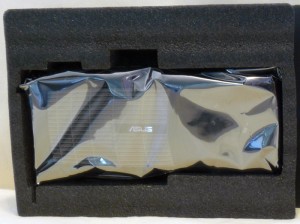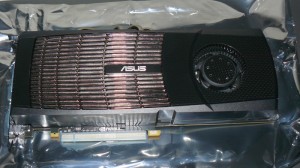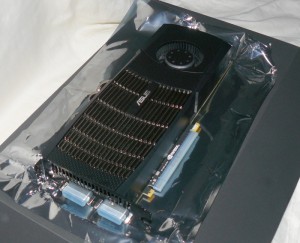 As can (partially) be seen, there are 2 DVI ports and 1 mini-HDMI port, there are rubber covers on the DVI ports and the PCI-E connector is also protected.
This card is just the reference GTX 480 card with an ASUS specific bios, so it's almost identical to any other GTX 480.
Installing this card into the PC was not as easy as expected, for some reason the PCI bracket was not on straight due to the cooler, I can only assume this was some sort of manufacturing defect, it took a bit more wiggling and forcing than I am usually comfortable with in order to get the PCI bracket's bottom tab into it's spot, but so far there have been no adverse issues associated with this.
The card booted up fine and after a reinstall of the latest WHQL Nvidia drivers (257.21) the card was working as expected in Windows.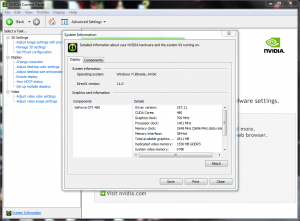 Firstly I tested a semi-new feature, audio over HDMI, using a 2009 46″ Sony Bravia XBR LCD TV, but there was a catch, I didn't have a mini HDMI connector and due to my case (a Cooler Master Cosmos S) and the unique placement of the port, I wouldn't have been able to physically plug anything into it anyway as it's partially blocked on this and many other cases.
Luckily there's a HDMI to DVI adapter included and it worked flawlessly, I was worried it wouldn't carry the audio as even though DVI can carry the audio, It's only stated that audio runs through the HDMI ports on these cards.
The audio was enabled automatically, though in order to utilise this it must be set as default audio device, interestingly the "Nvidia High Definition Audio" didn't show up in the audio playback devices list until I plugged it into the TV and now even though It's no longer connected, it's still in the list, stating that it's unplugged.
Go to the next page for performance info, after the banner.