I recently picked up an Asus GTX 480 to replace 2 SLI'd 8800GTX graphics cards, it's a great upgrade, a major performance increase with only a slightly higher power requirement at load.
Here are some pictures of the box: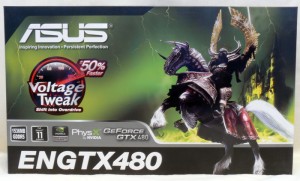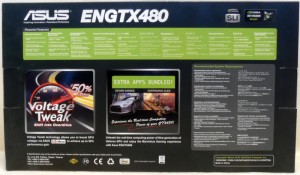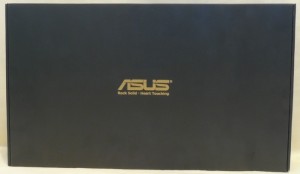 Here is what is included in the package:

A quick setup guide – This is very generic and seems to be made for a more basic, older generation card.
DVI to VGA Adapter – I have about 3 of these now, a necessary item for graphics cards.
DVI to HDMI Adapter – I actually needed to use this, more on that later on.
2x Molex to 6 Pin PCI-E Power Adapter – This is fairly basic, seeing as the card also requires an 8 pin PCI-E power adapter. If you actually need this adapter, chances are you don't have the 8 Pin PCI-E power adapter either which makes this a little pointless.
Driver disc containing early Nvidia drivers and a few tech demos.
Manual disc.
Overall it's a fairly simple set for such an expensive card, especially considering it's not exactly the cheapest GTX 480 out there either.
Go to the next page under the banner.