This theme is now too old to be used in new versions of WordPress, please use Whispy Blue v2 instead.
Whispy Blue is a new theme based upon the earlier "Light Curves" theme that has been completely rewritten with many enhancements.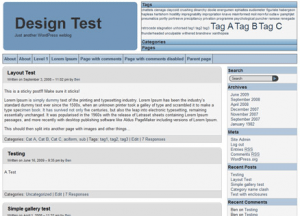 Features:
The pages menu supports as many parent or child pages as you wish and can display 2 child menus deep.
There are an additional 3 widget sections in the form of a JQuery accordion list to display one widget each.
The theme has been built to only support for WordPress 2.7 and newer.
Full CSS and XHTML validation
Limited support for Internet Explorer 6
Changelog:
1.05:
Better compression for images.
Fixed the following Accordion issues:

Theme matches site better.
Accordion now responds to mouseover command instead of click.
Accordion is now able to animate correctly.
Fixed Accordion slowly changing it's size as parts are closed and opened eventually causing one section to disappear, related to below issues.
Tables display correcly in accordion, will be resized to maximum size.
Single images still handled the same but multiple images will now show their correct size.
Accordion now works in Safari, IE8 has a small anomaly that is not present in any other browser, this is a known JQuery issue.
1.04:
Removed addthis button, it should not have been in there in the first place
Fixed paged comments display, also changed it so that the navigation code does not display at all if pages are turned off or there are no comments
Fixed trackbacks display width
I did it again somehow, this time comments.php converted to mac formatting, I removed unnecessary lines that were added
1.03:
Theme had jquery, jquery-ui-core included (that wordpress already has) causing unnecessary load, changed it to use wordpress javascript loader
1.02:
Changed to using built in get_comments() function, not sure why I couldn't find any info on it
A few of the theme files were inadvertantly converted to unix style formatting causing readability issues for text editors that can't read it (sorry wordpress themes mods)
1.01:
Fixed issue when blog title is long as indicated by the test site
Fixed accordion force-resizing each widget causing it to go out of shape
Fixed links list widget showing incorrectly when used in accordion
Accordion now shows some unwidgetized items if widgets have not been selected
Fixed small error in comment reply box when using threaded comments
Now has almost full IE6 support, page buttons have slight border inconsistency
Notes:
The theme works in most modern browsers except for IE6 as it cannot use the pages menu.
The additional widget display areas have only been developed with the built in widgets in mind, certain widgets may break the styling of the boxes.
Additional Notes on the accordion:
Links display correctly but only one category can be shown in each section of the accordion.
You can get the search bar into the accordion but it doesn't look quite right, I may be able to style it correctly in a later release though.
When an image is the only thing in a widget (except for the title) then the image size can cause the accordion to go way too big, with this in mind the image is forced to expand or contract to be as high and wide as the accordion.
You can test out the theme here.
Download Here:
Help:
If you need any help with the theme please leave a comment here.