I have been debating whether or not I should put this up, however after much testing I have concluded that it is safe, it works and many other people have used this method, it goes without saying that this is still quite dangerous to do as nobody knows why D-Link doesn't allow the downgrade to take place and they may believe it can cause bricked routers.
There is firmware floating around that allows a D-Link DIR-655 to downgrade to pre-1.3x firmware (and also to other countries' firmware), here are the results of my testing:
First I factory reset my router, it was running the 1.33NA b01 firmware, then I firmware upgraded it to the DIR655A4_FW131RUB10 firmware file that I will make available at the end, this is a modified version of an official Russian firmware, (apparently 2 bytes is all that has been changed).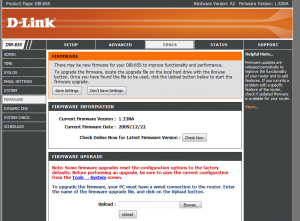 Once this was complete I was running the modified firmware, as you can see it is still in English.

Then I was free to upgrade/downgrade to any firmware I wished, so I decided to try the official Australian Firmware 1.21 and this worked perfectly.

Here is the chklst.txt info on the firmware to prove it downgraded successfully.

You can download the modified firmware below:

Modified RU DIR-655 firmware